The Third Wave
Affiliate Program
Want to get in on the microdosing game, but unsure of where to turn? Or maybe you're interested in the benefits of microdosing psychedelics, but are justifiably concerned about safety? Meet Third Wave, a true godsend that provides everything you need to microdose psychedelics safely and effectively.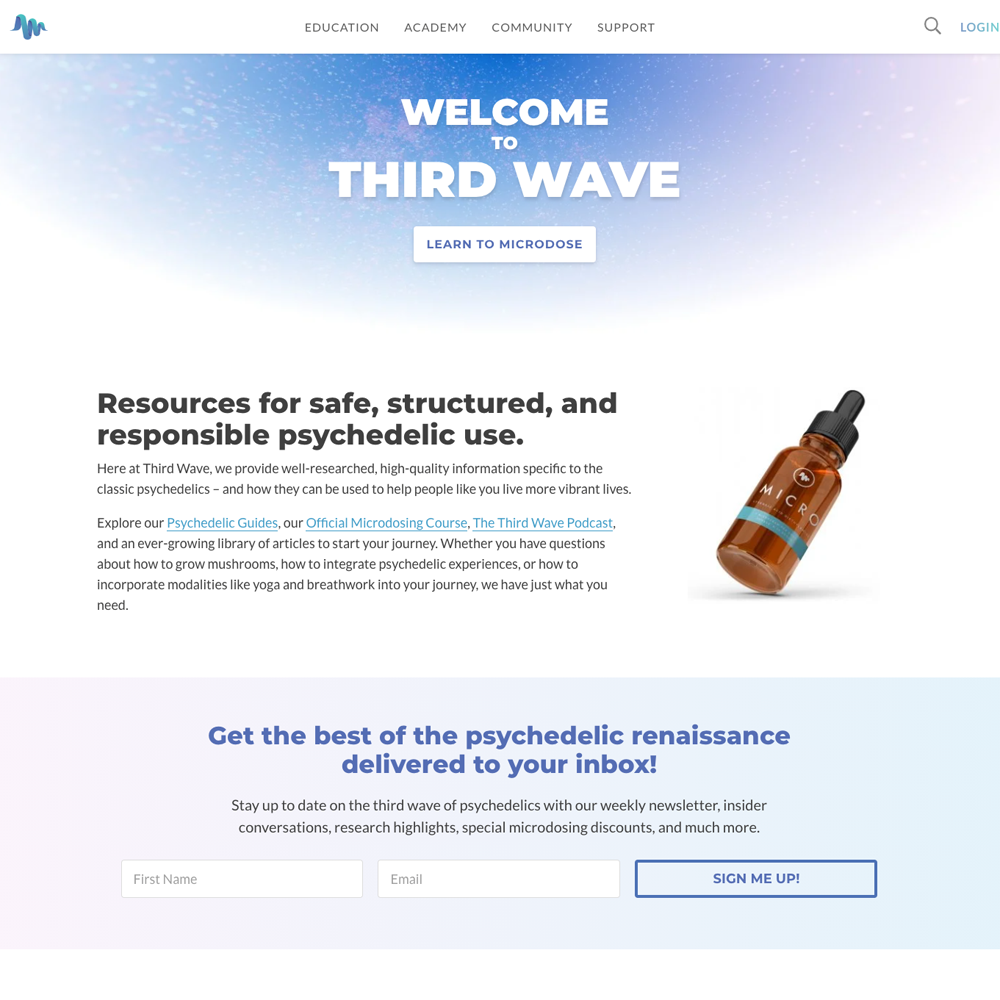 The Third Wave Affiliate
Program Offer
Psychedelic plants like cannabis and psilocybin mushrooms have been used for centuries by indigenous peoples to address health issues. But most of us don't have an experienced shaman or a psychedelic specialist in our contact list. That's where Third Wave comes in…
Microdosing psychedelics; taking tiny amounts regularly to support overall health, has become a popular trend in the health and wellness space. This is due largely to a boatload of scientific research and anecdotal evidence that points to these plants making a positive impact on quality of life when taken in small, measured amounts. People with issues from depression to physical ailments have found relief from microdosing psychedelics, but for the newbie, the whole thing can be overwhelming. And even scary!
Third Wave is here to take the guessing out of the microdosing game by providing solid information on how to get started. The goal of the brand is to make people feel safe and empowered on their journey to self-transformation through psychedelics. They do it with their specialized, heavily researched content that supports you every step of the way.
90 Day Cookie Length
Conversions happening within a 90-day window ensures you will get credit for the sale.
30% RevShare Offer
Promoting the Third Wave affiliate offer earns a 30% RevShare on purchases.
At Third Wave, people can find all the information they need to safely get started with microdosing psychedelics. The company offers step-by-step instructions, guides, and online courses for reliable microdosing information on everything from LSD to ayahuasca. Third Wave serves as a bastion of legitimate content on microdosing that's helping people everywhere try this wellness trend safely. They're changing the world!
How to Make Money Promoting The Third Wave
Third Wave has responded with laser precision to a booming need— information on safe microdosing. For years, this information was scattered across forums and sketchy sources. Now, people can get scientifically based information to empower their microdosing journey safely with Third Wave. The value proposition is huge, and to say the service is needed is an understatement. For these reasons and more, Third Wave is an exciting addition to the RevOffers lineup.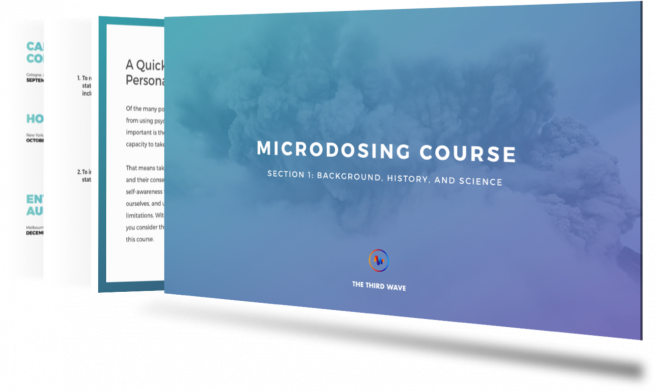 Why RevOffers Performance Marketing?
As an affiliate, you are aware that there are many poor brands with empty products out there, and a few amazing brands with ultra-premium products to promote. RevOffers focuses on quality over quantity, we have the best list of curated CBD offers anywhere.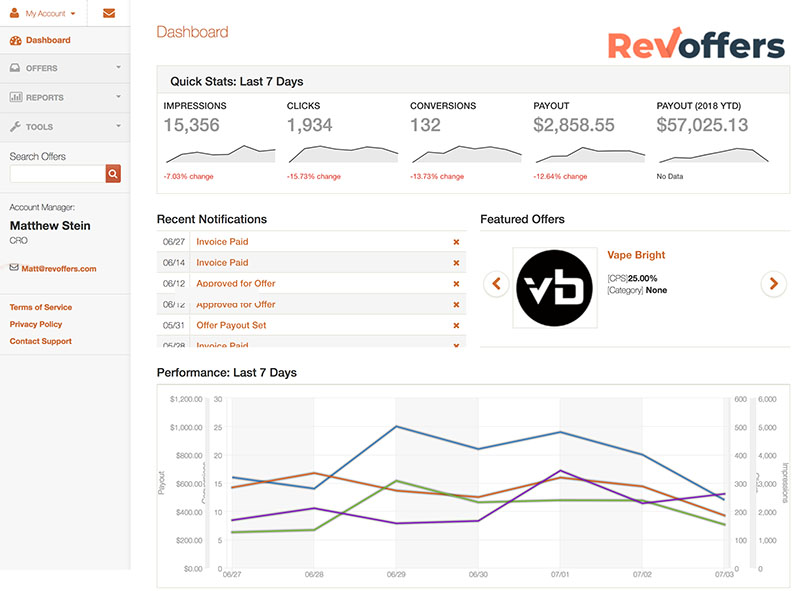 Why Affiliates Love to Promote with RevOffers
We curate the best transformational health products that are high-converting which allows our publishers to make even more money promoting brands they can believe in. Since RevOffers is an network, publishers have centralized access to multiple offers making it easy to promote, track and get paid.
RevOffers makes it easy for us to promote multiple offers all from one dashbaord - which means one payment too! With RevOffers we've been able to grow our affiliate revenue by 400% in just 3 months.
Jeanie Haar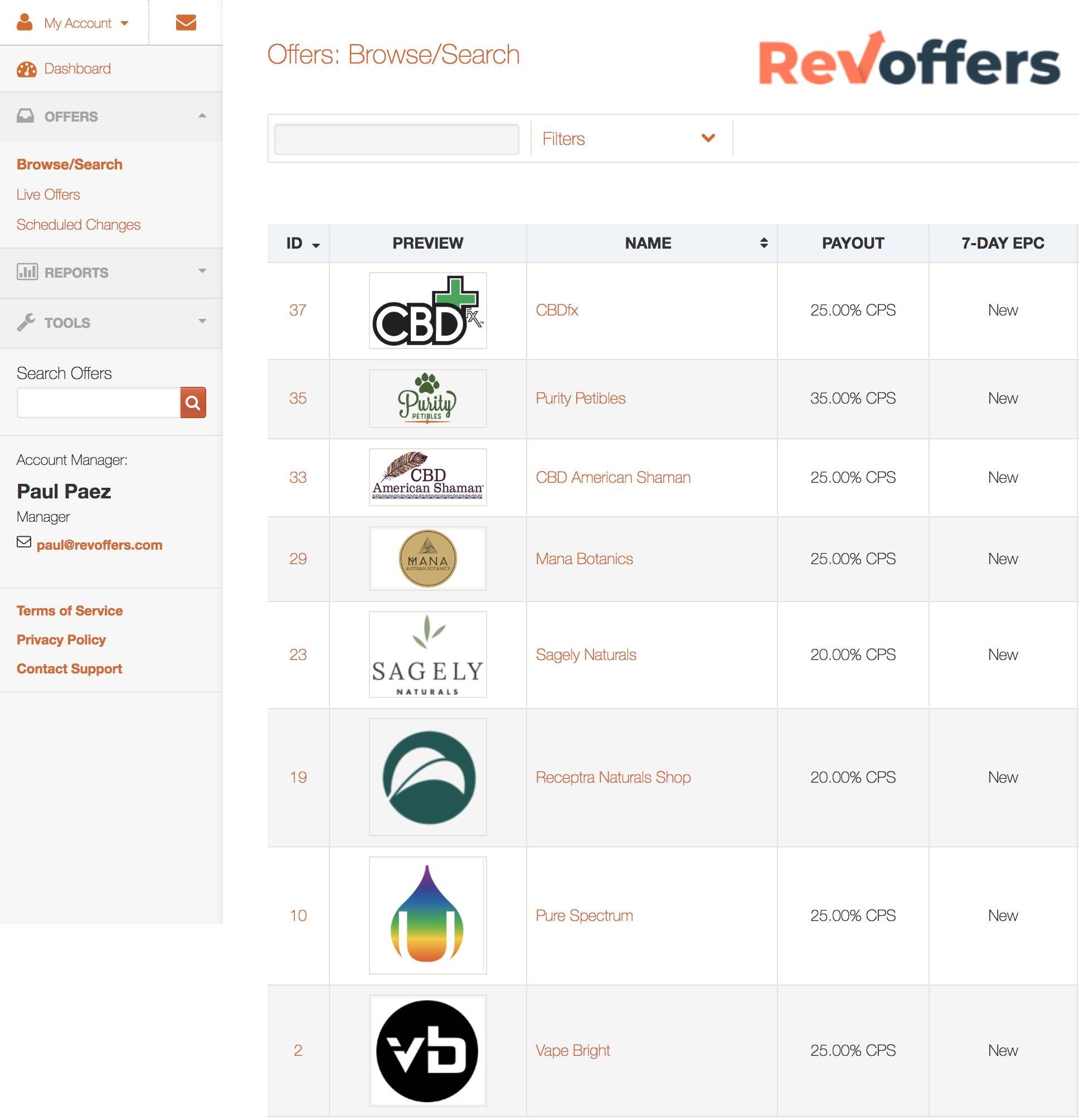 We are an Affiliate Network
We specialize in bringing affiliates like you high-converting offers with excellent payouts.
RevOffers creates deep partnerships with partner brands to ensure publishers actually get paid on time, every time. Joining RevOffers allows affiliates to leverage our curated collection of products in legal cannabis, natural health, and more. Putting multiple legal cannabis affiliate programs in one place simplifies and consolidates the process of making money with affiliate marketing.
Our Industry Leading Publishers