Reggie
Affiliate Program
Self care isn't just about self… it's about how you treat the ones around you! Discover the philosophy behind Reggie, a holistic dog supplement brand with the power to keep Fido healthy and happy. Reggie loves top-shelf ingredients and creating sustainable wellness regimens for your pup!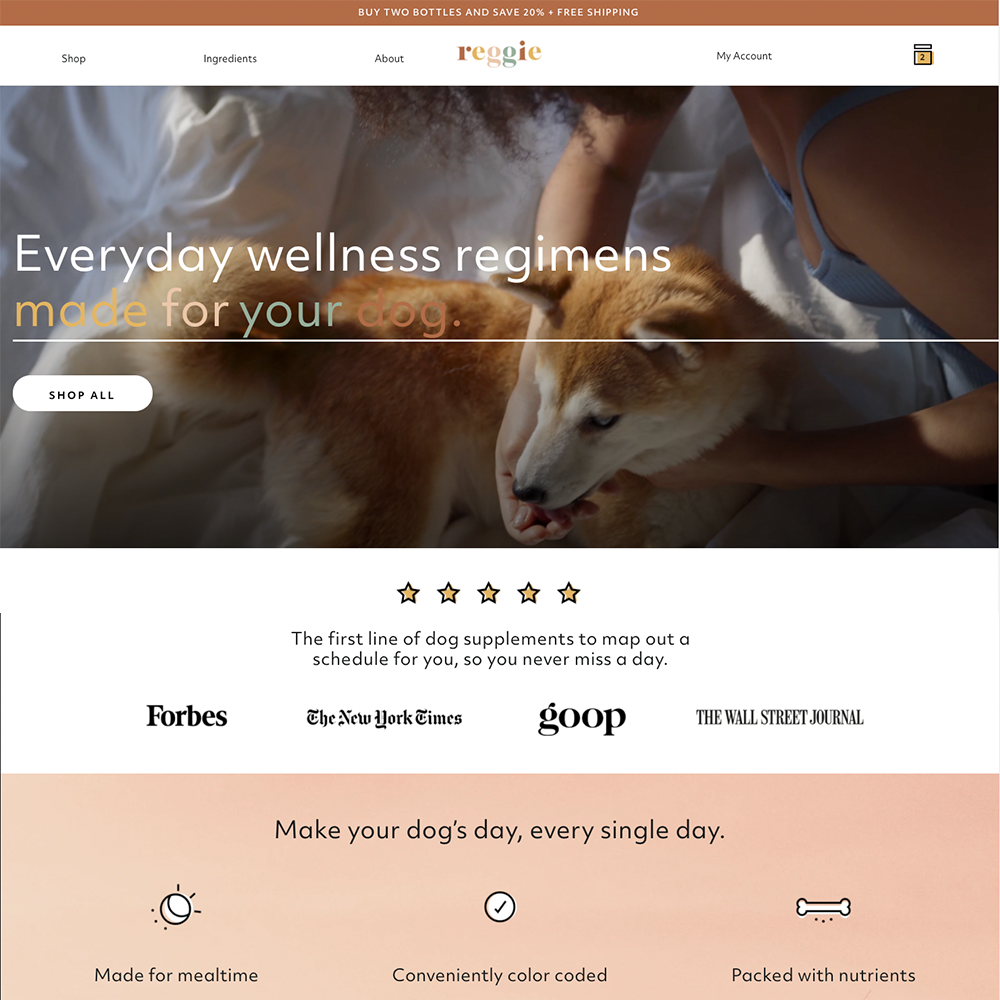 Reggie Affiliate
Program Offer
Reggie is all about self care — holistic self care, that is. The brand philosophy states that self care goes beyond self and extends to those around you. That's why they've crafted an unbeatable regimen of supplements to give dogs the vitamins and nutrients they need, all while creating lasting healthy habits.
How does Reggie do it? It starts with impeccable sourcing. Dogs and owners alike can breathe a sigh of relief at the sight of the ingredients lists. No chemical nasties or scary fillers to be found! Plus, Reggie has an all-star lineup of all-natural nutrients to support canine wellness. Goodies like glucosamine for joints and omega-3 fish oil are just a couple.
But it's one thing to find awesome pet supplements that really work. It's another to get your dog into a routine of taking it everyday. Reggie zeroes in on this exact problem many dog owners face by making a wellness regimen super easy. Their supplements are color-coded and meant to be taken at meal times to build a lasting association for both you and your dog
And it's all backed by a veterinarian! Reggie retains a veterinary advisor and conducts extensive research and testing on all their products.
14 Day Cookie Length
Conversions happening within a 14-day window ensures you will get credit for the sale.
15% First Time + 5% Recurring RevShare
Promoting the Reggie affiliate offer earns a 15% RevShare on first time purchases and 5% on all recurring purchases!
10% Discount Funnel
Reggie affiliates use a 10% discount offer to incentivize their traffic that can double conversion.
Their four formulas target specific health issues and are meant to be taken regularly, just like any supplement you want to see results from.
Routines feel good, and with a Reggie subscription, dog owners can give their companions a healthy supplement routine starting at under $0.40 a day! Tasty for dogs and easy for humans, Reggie makes lifelong healthy habits easy and fun.
How to Make Money Promoting Reggie
Reggie is the first dog supplement brand to map out an actual schedule for consumers. Their glowing testimonials come from their powerful ingredients and importantly, from the brand's ability to make the whole dog supplement routine easier. Because of their innovative spirit and commitment to holistic wellness, RevOffers recognizes Reggie as a lucrative addition to our affiliate network

Why RevOffers Performance Marketing?
As an affiliate, you are aware that there are many poor brands with empty products out there, and a few amazing brands with ultra-premium products to promote. RevOffers focuses on quality over quantity, we have the best list of curated CBD offers anywhere.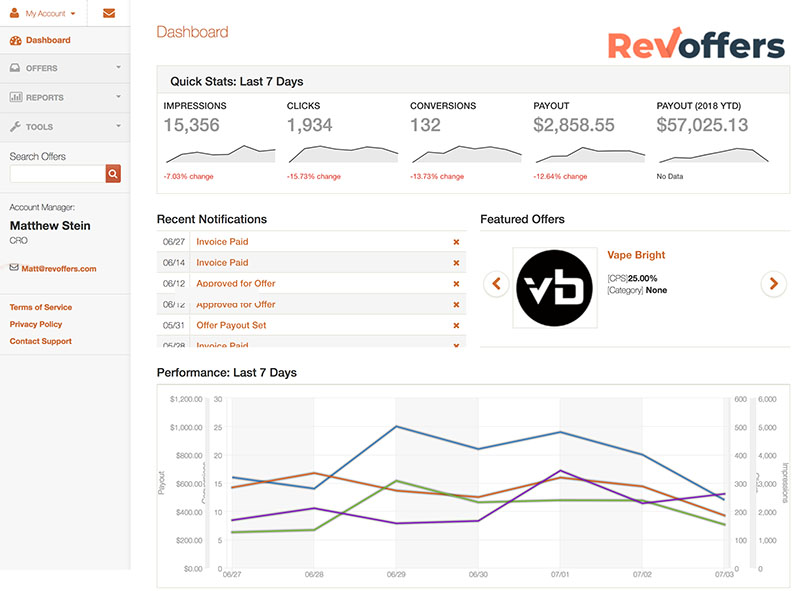 Why Affiliates Love to Promote with RevOffers
We curate the best transformational health products that are high-converting which allows our publishers to make even more money promoting brands they can believe in. Since RevOffers is an network, publishers have centralized access to multiple offers making it easy to promote, track and get paid.
RevOffers makes it easy for us to promote multiple offers all from one dashbaord - which means one payment too! With RevOffers we've been able to grow our affiliate revenue by 400% in just 3 months.
Jeanie Haar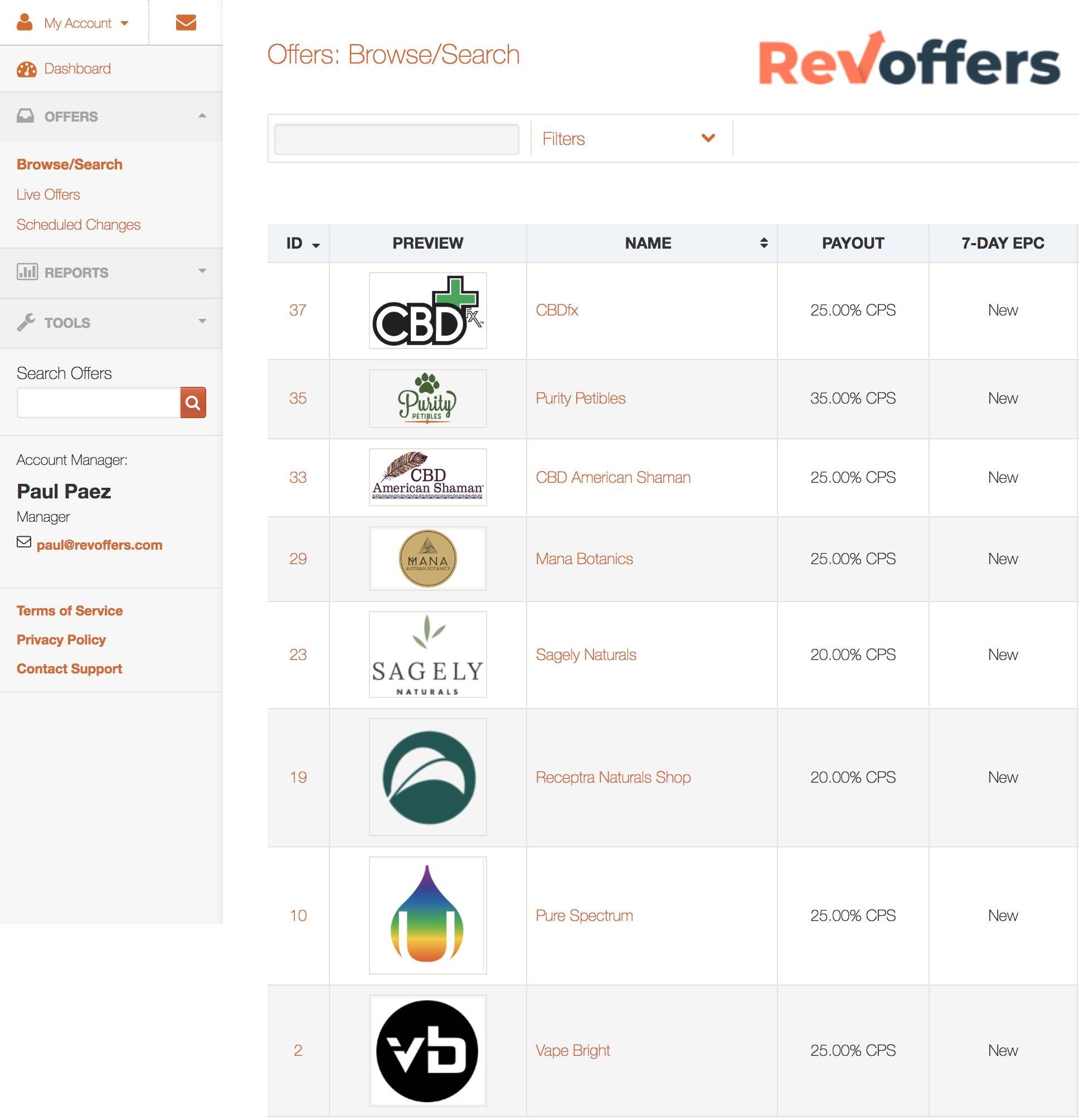 We are an Affiliate Network
We specialize in bringing affiliates like you high-converting offers with excellent payouts.
RevOffers creates deep partnerships with partner brands to ensure publishers actually get paid on time, every time. Joining RevOffers allows affiliates to leverage our curated collection of products in legal cannabis, natural health, and more. Putting multiple legal cannabis affiliate programs in one place simplifies and consolidates the process of making money with affiliate marketing.
Our Industry Leading Publishers