Prima
Affiliate Program
Reclaim health, happiness, connectivity, and all that is good… don't mind if we do! Prima's invitation to a happier, healthier life is hard to resist, thanks to their honestly potent and clean line of CBD goodness. See why Prima is winning over hearts and minds with every gem they produce.
Prima Affiliate Program Offer
Forbes called Prima the "Patagonia of CBD". Let's talk about that for a hot minute… Patagonia is known for high-end products and a company that does right by both people and the environment. And Forbes got this analogy right! Prima is the CBD biz equivalent, offering top-of-the-line, sophisticated cannabidiol supplements while practicing grade -A ethics, sustainability, and service.
Prima exclusively source single-origin hemp from Oregon. For customers, this means consistency of product and reliable genetics. All the hemp used to make Prima's CBD oil is grown under sustainable and organic protocols, no pesticides or chemical nastiness ever. After harvest, Prima uses CO2 extraction to produce both broad spectrum and full spectrum CBD oil. No isolates allowed.
The Prima CBD line is entirely vegan, 100% free of animal byproducts. Known for their obsession with pure ingredients, Prima incorporates cleanly sourced superfoods and oils to enhance their potent CBD oil. You can choose from next-level CBD skincare with face oils and serums, CBD capsules, CBD beverage infusion powders, and Prima's popular topical CBD creams.
90 Day Cookie Length
Conversions happening within a 90-day window ensures you will get credit for the sale.
15% Commission
Promoting the Prima affiliate offer earns a 15% revenue share on purchases.
In addition to transparency surrounding ingredients, Prima provides their customers with everything they need to know before purchasing a CBD product, including up-to-date lab tests. These third-party results for purity and potency prove that Prima's CBD supplements are overflowing with multiple cannabinoids like CBG, CBN, and more. The entourage effect has never felt so good!
How to Make Money Promoting Prima
Prima has earned well-deserved praise from big-name media outlets for their doctor formulated, holistically designed CBD supplements. The brand is also big into giving back, donating a portion of their proceeds to verified nonprofits. Prima's excellence in the fields of sustainability and quality makes them a welcome addition to the RevOffers network of trusted brands.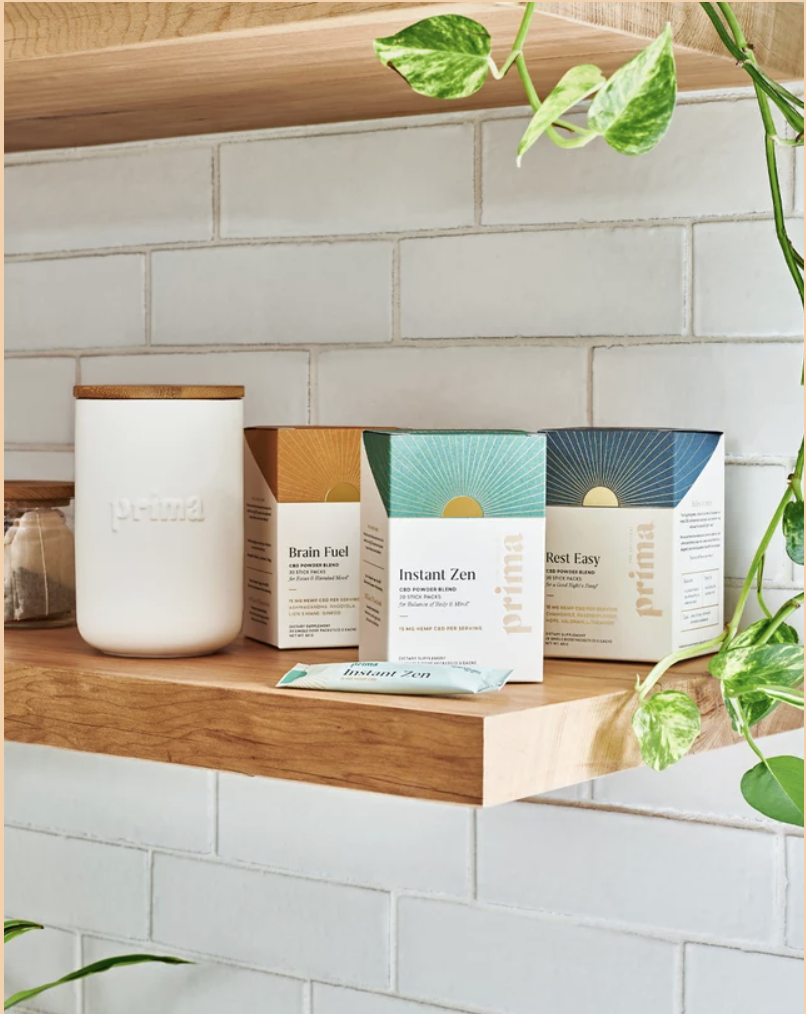 Why RevOffers Performance Marketing?
As an affiliate, you are aware that there are many poor brands with empty products out there, and a few amazing brands with ultra-premium products to promote. RevOffers focuses on quality over quantity, we have the best list of curated CBD offers anywhere.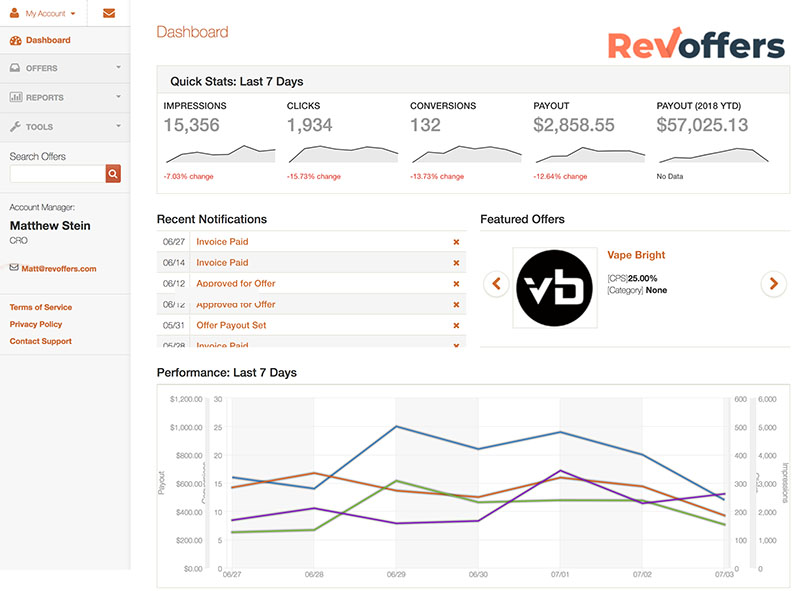 Why Affiliates Love to Promote with RevOffers
We curate the best transformational health products that are high-converting which allows our publishers to make even more money promoting brands they can believe in. Since RevOffers is an network, publishers have centralized access to multiple offers making it easy to promote, track and get paid.
RevOffers makes it easy for us to promote multiple offers all from one dashbaord - which means one payment too! With RevOffers we've been able to grow our affiliate revenue by 400% in just 3 months.
Jeanie Haar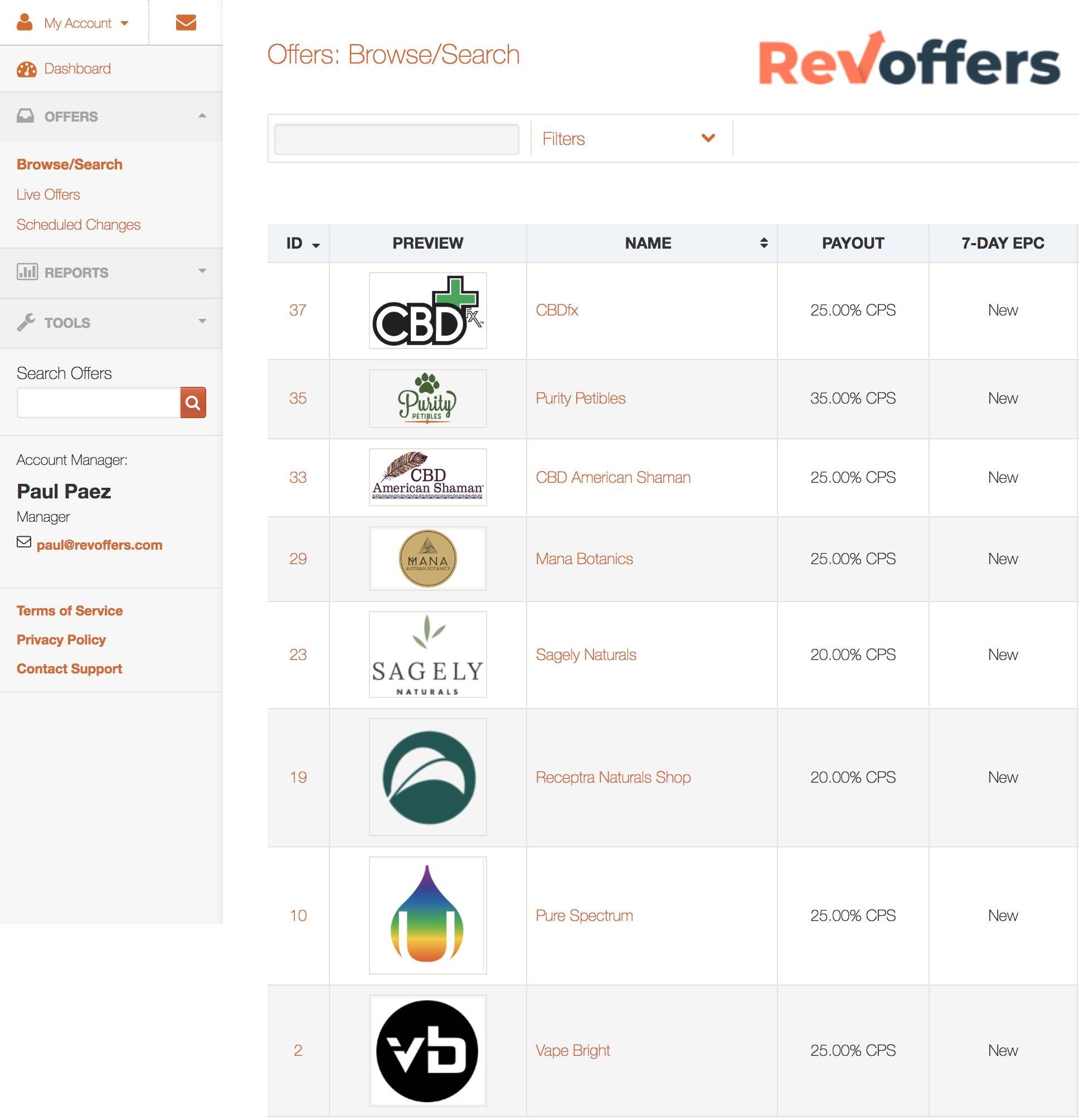 We are an Affiliate Network
We specialize in bringing affiliates like you high-converting offers with excellent payouts.
RevOffers creates deep partnerships with partner brands to ensure publishers actually get paid on time, every time. Joining RevOffers allows affiliates to leverage our curated collection of products in legal cannabis, natural health, and more. Putting multiple legal cannabis affiliate programs in one place simplifies and consolidates the process of making money with affiliate marketing.
Our Industry Leading Publishers