Oklahoma Smokes
Affiliate Program
Keep the ritual. Enjoy the moment. Get your oral fixation on without the guilt– the three wishes of every cigarette smoker who wants to quit. Luckily, there's some friendly folks around who can grant these desires: Oklahoma Smokes. Say hello to the irresistible CBD cigarette brand born and bred in the USA.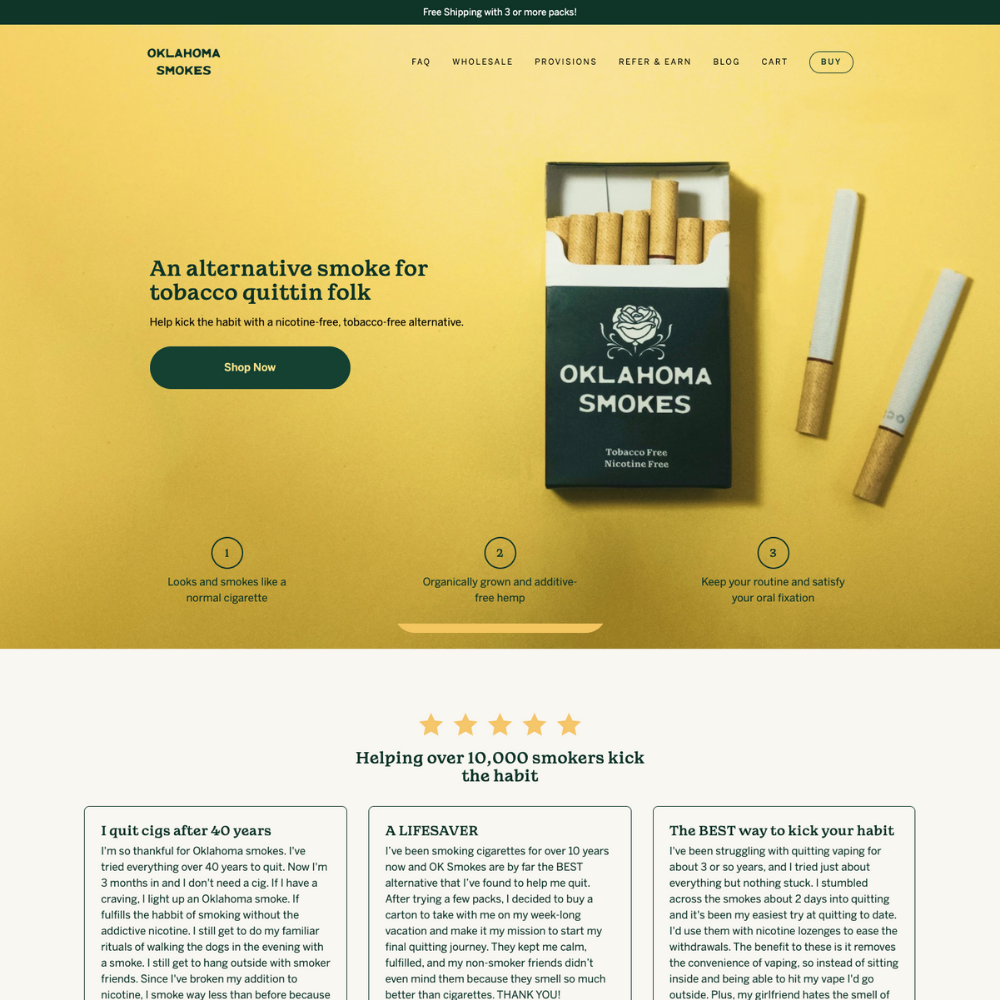 Oklahoma Smokes Affiliate Offer
Want to quit smoking cigarettes? Want to smoke herbal products without the THC? Or maybe you're a former smoker who gets occasional cravings? These are the people who dig Oklahoma Smokes. Longtime fans of CBD cigarettes and newcomers alike are loving this small business in the heartland with an honest mission and honestly awesome products.
Oklahoma Smokes sells high-grade CBD cigarettes that are tested meticulously for purity and potency. The hemp used to make Oklahoma Smokes CBD cigs is grown organically in the US: no pesticides or chemical fertilizers of any kind. And that's all they put in! Just honest-to-goodness hemp to help people kick the habit with a better one. A habit that pumps the body full of beneficial cannabinoids like CBD and CBG. No tobacco. No nicotine. No nonsense.
Oklahoma Smokes describes their tobacco-free cigarettes as 'an alternative smoke for tobacco quittin folk', an ode to the friendly and genuine feel of the brand. The Oklahoma Smokes rose insignia adorns every packet that looks like a down-home 70s creation. Very cool and very original in this space!
90 Day Cookie Length
Conversions happening within a 90-day window ensures you will get credit for the sale.
15% CPS Offer
Promoting the Oklahoma Smokes affiliate offer earns a 15% CPS on purchases.
At the end of the day, the team behind the Oklahoma Smokes CBD brand wants to make a big impact by empowering people to say goodbye to tobacco forever. A simple mission made possible by hemp CBD, which provides people the ability to smoke without unnatural, toxic, and addictive ingredients. 
And people love that Oklahoma Smokes CBD cigarettes look exactly like the real thing! They also smoke like the real thing, which is a huge win for those trying to quit. To make things even better, CBD has de facto been clinically studied to help people kick the habit. Wins all around.
How to Make Money Promoting Oklahoma Smokes
Oklahoma Smokes nails their non-judgemental vibe with friendly branding sans the frills. Better yet, they back it up with five-star products! Because of their mission-driven practices, Oklahoma Smokes is a welcome addition to the RevOffers network.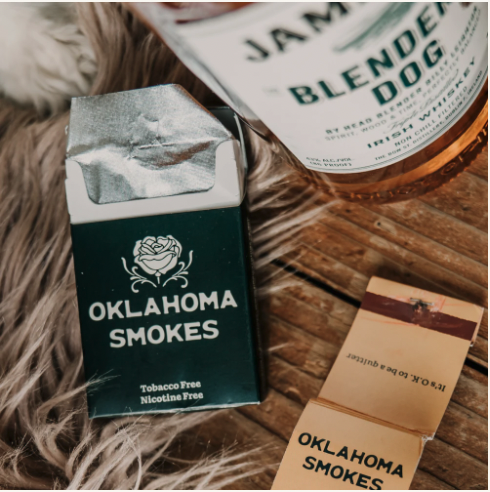 Why RevOffers Performance Marketing?
As an affiliate, you are aware that there are many poor brands with empty products out there, and a few amazing brands with ultra-premium products to promote. RevOffers focuses on quality over quantity, we have the best list of curated CBD offers anywhere.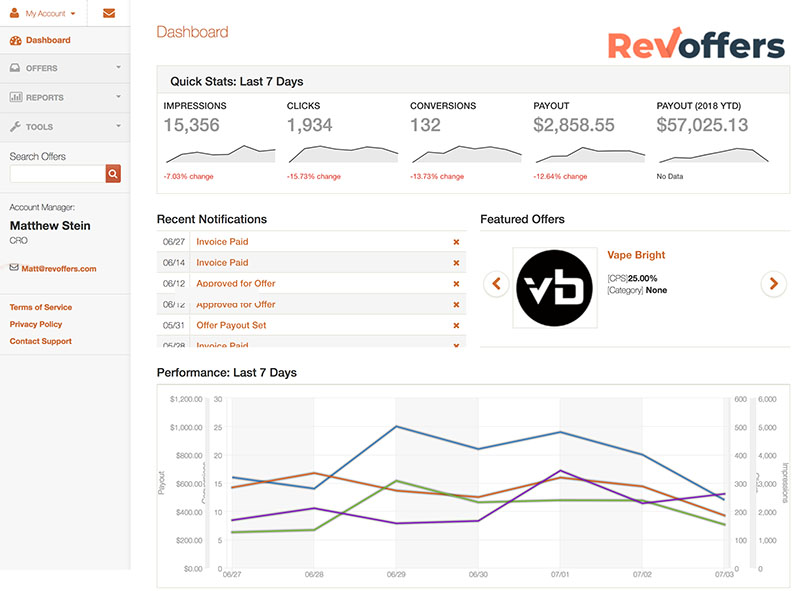 Why Affiliates Love to Promote with RevOffers
We curate the best transformational health products that are high-converting which allows our publishers to make even more money promoting brands they can believe in. Since RevOffers is an network, publishers have centralized access to multiple offers making it easy to promote, track and get paid.
RevOffers makes it easy for us to promote multiple offers all from one dashbaord - which means one payment too! With RevOffers we've been able to grow our affiliate revenue by 400% in just 3 months.
Jeanie Haar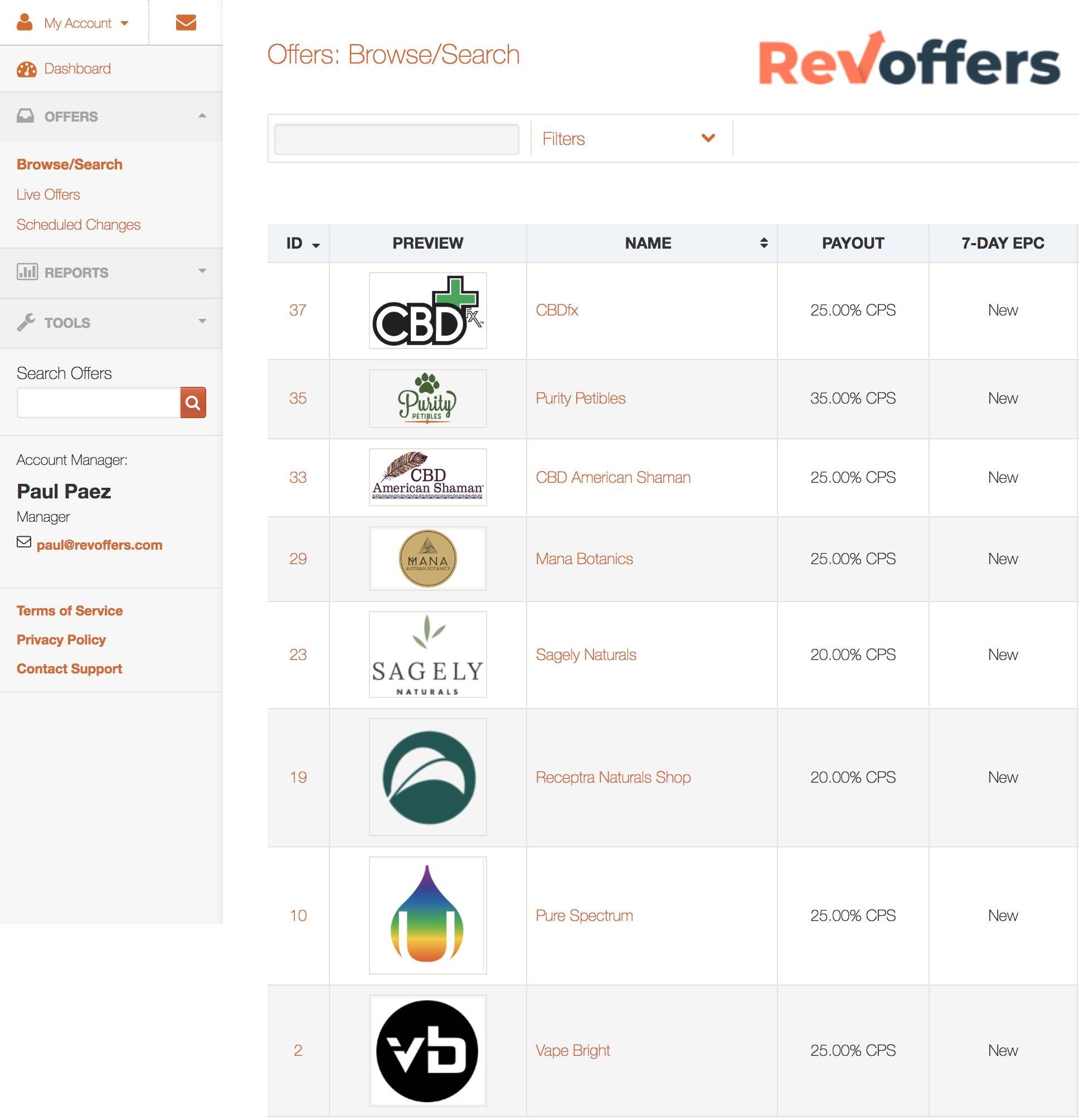 We are an Affiliate Network
We specialize in bringing affiliates like you high-converting offers with excellent payouts.
RevOffers creates deep partnerships with partner brands to ensure publishers actually get paid on time, every time. Joining RevOffers allows affiliates to leverage our curated collection of products in legal cannabis, natural health, and more. Putting multiple legal cannabis affiliate programs in one place simplifies and consolidates the process of making money with affiliate marketing.
Our Industry Leading Publishers